United Facts of America: How memes can fuel political strategy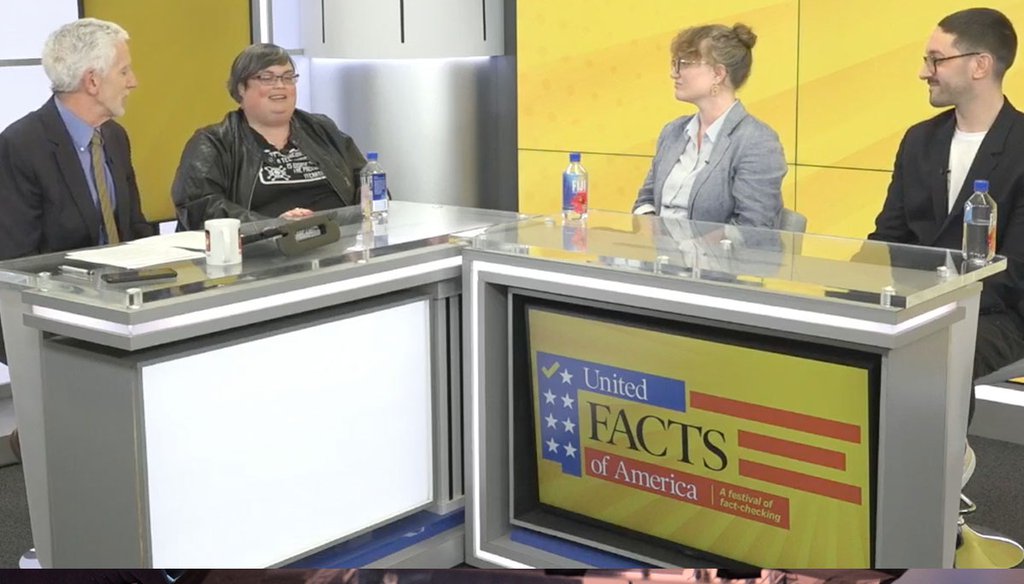 Memes, like jokes, are often portrayed as being mostly harmless and incapable of exerting political influence. But recent elections have demonstrated that organizers can easily exploit them to create political movements, spread group narratives and influence voters.
On September 28, PolitiFact Senior Correspondent Jon Greenberg interviewed the authors of "Meme Wars: The Untold Story of the Online Battles Upending Democracy in America." Joan Donovan, Emily Dreyfuss and Brian Friedberg of the Shorenstein Center, which explores the intersection of the press, politics and public policy, defined memes and discussed their political significance and widespread adoption by conservative organizers.
"It's a unit of culture passed between groups and passed down between generations," said Donovan, research director at the Shorenstein Center, referring to the original definition of "meme," which was coined by British evolutionary biologist Richard Dawkins. . "For us, the most important thing about memes in general is that they don't just show up, they resonate. They inspire some sort of emotional component, which could then lead you to take action."
Donovan cited Uncle Sam and the Occupy Wall Street movement as two examples of memetic ideas. While memes can be macro images with overlaid text, Donovan said, they can also be hashtags, slogans, or anything that resonates.
"What's needed is a sticky, memorable idea; it needs to be compact; it needs to be easy to reuse," Donovan said. "How you react to it can tell someone what kind of group you're in and not."
Friedberg, a researcher from Shorenstein, described how, when writing the book, he and his co-authors viewed the Occupy movement as a model for the right-wing's use of "meme warfare."
"One of the ways we looked at Occupy was how many on the right learned from Occupy, even as they condemned it," Friedberg said. "This idea of ​​how to take a decentralized movement, nurture it, but also make the most of it and move it up the chain in traditional political communication."
"We focus a lot on Andrew Breitbart and his friendship with Steve Bannon," Donovan said, referring to the founder of the conservative site Breitbart News and the former Trump administration adviser. "They did a movie on Occupy Wall Street where they actually focused on the anti-media campaigns and the kinds of media manipulations that happened during Occupy."
Donovan cited an email hoax in which Occupy organizers were tricked into believing rock band Radiohead would play at the protests as an example of Breitbart and Bannon learning "that on the internet no one knows you're a dog". (The quote is taken from a famous New Yorker cartoon.)
"All this organizing power that we saw in 2016 around MAGA and the alt-right, it's no surprise to us that Bannon supports it," Donovan said.
Friedberg said much of the language and mannerisms brought into the mainstream during the Donald Trump Make America Great Again, aka MAGA, movement were developed online during the Gamergate harassment campaign.
"The phrase 'social justice warrior' became very popular around this time and that language was kind of exploited by people who then immediately jumped into the early stages of Trump supporters," Friedberg said.
Donovan also described the ability of memes to function like a dog whistle, simultaneously garnering support and recognition within the group without attracting attention from outside the group.
"Memes do this thing where if you know what the meme is about, you're in the community, you get it. Or if you understand it and you're against it, it drives you crazy." Donovan said. "Dog whistles can be very important if you don't know what you hear you miss it, but if you know it's a wink and nod."