This week's essential tracks: Big Thief, Kadhja Bonet and more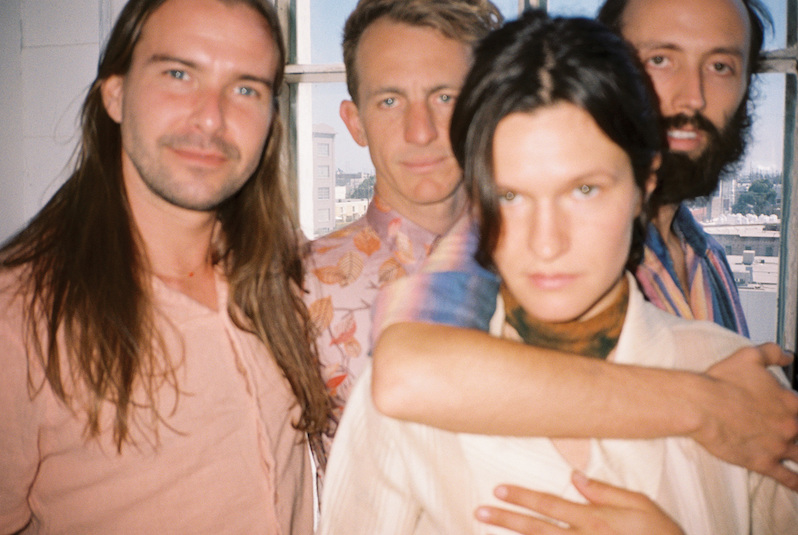 Our latest batch of essential tracks features indie heavyweights, politically charged post-punk from Poland, an eclectic supergroup of Congolese musicians with global collaborators and more.
Listen to our ongoing playlist of 2022 Essential Tracks.
---
Big Thief – "Red Moon"
Big Thief releases their highly anticipated double album today Dragon New Warm Mountain I believe in you, which arrives after a long string of singles that still haven't spoiled the embarrassment of riches. "Red Moon" is the last single they offered in conjunction with the album release (complete with live video), and it's a reminder of just how fun this band can be at their best. Where they veered to a Radiohead-esque atmosphere on UFO and a more earthy rock sound on the same year Two hands, "Red Moon" is both relaxed and rowdy, standout country rock reminiscent of The Band, The Grateful Dead and Creedence (even a little Stones turned country) that carries a warmth that can't be manufactured. Big Thief have become one of the most successful indie bands in recent memory, primarily due to the strength of their songwriting, but "Red Moon" also emphasizes its versatility. What other band in recent memory can write both a song about alien visitors and a root hoedown that finds Adrianne Lenker yelping "That's my grandma!" and somehow make them both feel like essential parts of the same body of work.
From Dragon New Warm Mountain I believe in youavailable now through 4AD
---
Kadhja Bonet – "For You (Multiple Soil Version)"
In September, psychedelic soul artist Kadhja Bonet released the synth "For You," her first new single in three years. This week, however, she followed up with an entirely different version, a more spacious and organic take that emphasizes the warmth and depth her music can deliver at her best. What the two have in common, however, is a truly hypnotic layering of voices, breathtaking in execution and rich in their harmony in the hall of mirrors. It's a great song made even better with subtle touches, like its 80s chorus guitar sheen and booming sax solo.
Available now through Ninja Tune
---
Congotronics International – "Beyond the 7th bend"
Congotronics International is a supergroup made up of Congolese bands Kasai Allstars and Konono No.1 as well as members of Deerhoof and Skeletons and Argentinian artist Juana Molina. This week they released two new singles, one more frenetic and dense, and the other meditative and beautiful. "Beyond the 7th Bend" is the latter, a beautifully fluid balance of mbira plucks and hypnotic guitar licks, showcasing the beauty that can come from a group of musicians with diverse backgrounds but a similar sensibility to find something of magic in a melody.
From Where is the One?out April 29 via Crammed Discs
---
Ben Marc – "Sometimes Slow"
London has been a focal point for contemporary jazz for over half a decade now, and continues to be a prolific outlet for new talent. Ben Marc is one such artist, having played in Ethio-jazz legend Mulatu Astatke's band and collaborating with Radiohead's Jonny Greenwood. But the multi-instrumentalist's new single from his upcoming solo debut reveals his own unique and complex style. "Sometimes Slow" is less traditional jazz and more a kind of beautifully composed and executed intersection of electronic, jazz and post-rock sounds, sometimes like a complete version of the kind of dreamy, scintillating IDM that Four Tet crafted on his first few albums. As the fourth single, it is shared by Glass effectit's just one of four entirely different approaches he's showcased so far, but by far the most delicately beautiful to date.
From Glass effectout April 22 via Innovative Leisure
---
Trupa Trupa – "Moving (B-flat)"
The Polish group Trupa Trupa does not make music that is easily digestible in a single listen. It's tense, heady and dark, existing between the tense rhythms of post-punk and the out-of-body weirdness of psychedelia at its wildest. But it is not the only reason; the band draws on European history to draw parallels between the present and the rise of fascism in the past, which also makes for a thematically dense listen. They just released their new album if flat the, coinciding with the release of this new single, a song built on the kind of tension that is still only a degree or two from boiling over but instead thrives on discomfort. It's reminiscent of This Heat at its most disturbing, but with an undeniable rhythmic sensitivity.
From if flat theavailable now via Glitterbeat
---
Support our site – Subscribe to our Patreon: Become one of our monthly patrons and help support an independent media resource while gaining access to exclusive content, shirts, playlists, mixtapes and more.