Springsteen Plays Sex Songs, Pays Homage To Charlie Watts On SiriusXM (TRANSCRIPT, VIDEOS)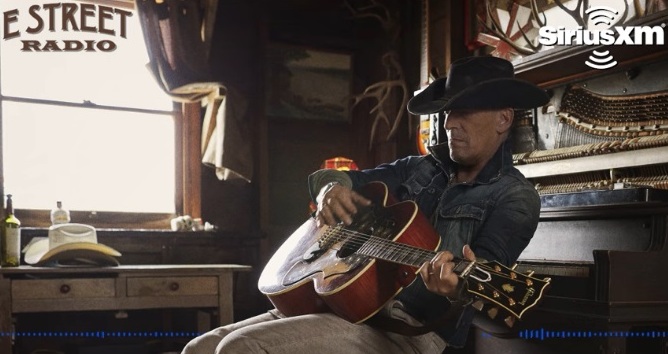 Bruce Springsteen has played songs from everyone from Donna Summer to the Rolling Stones, as well as two from Marvin Gaye ("Sexual Healing" and "Let's Get It On") and two of his own ("Reno" and "I'm On Fire "") on his 29th DJ show on SiriusXM Satellite Radio, titled "Let's Talk About Sex."
He also paid tribute to Charlie Watts of the Stones, calling him "rock'n'roll's greatest drummer." Watts died on August 24 at the age of 80.
The show debuted October 13 on SiriusXM E Street Radio (Channel 20).
The show was part of Springsteen's "From My Home to Yours" series. You can see an index of all the songs played previously (with links to what he said and videos for the songs), here.
Here is today's transcript and videos. In some cases, a version of the song may have been played that is different from what is embedded in this post.
_______________________
"Sexy coffee", Tony Alvon and the Belair
Hello, hello, friends, fans, lovers and listeners from coast to coast and around the world. Hello from Stone Hill Studios and Vol. 29 of "From my home to yours", entitled "Let's talk about sex".
"Let's talk about sex", Salt-N-Pepa
https://www.youtube.com/watch?v=ydrtF45-yg
Alright Alright. We opened with "Sexy Coffee Pot" by Tony Alvon & the Belairs, followed by the wonderful and classic "Let's Talk About Sex" by Salt-N-Pepa. Salt-N-Pepa, from New York in 1985. Salt, Cheryl James – Pepa, Sandra Denton – and DJ Spinderella, Deidra Roper. Their first album was Hot, cool and vicious and it has sold a million copies in the United States. (Their) fourth album, Very necessary, sold five million, making them the best-selling female rap group at the time. The song "Let's Talk About Sex" has an underlying humor and sweetness that is simply irresistible. "Let's talk about sex, baby!" Let's talk about you and me! Let's talk about all the good things and the bad things that can be.
Slim Harpo, let's talk about sex.
"Baby scratch my back", Slim Harpo
It was Slim Harpo with "Baby Scratch My Back", by Lobdell, La. And here is the big one, Marvin Gaye, with the greatest song ever written on the subject today.
"Sexual Healing", Marvin Gaye
"Sex on fire", Kings of Leon
OK. It was the Followills with their big hit, "Sex (Is) on Fire". Our next artist, Hank Ballard, recorded this immortal R&B record in 1954. He was immediately fought by the FCC because of his salacious lyrical content, which was deemed, simply, too overtly sexual for the tender ears of modern American radio listeners. However, you can't keep a record of success! Despite attempts to restrict it, it went to No.1 on the R&B charts and stayed there for seven weeks. Hank Ballard, please, "Work with me, Annie."
"Work With Me, Annie", Hank Ballard & the Midnighters
This record has sold a million copies, as has its response record, "Annie Had a Baby (Can't Work No More)". Our singer's complaint is that every time he starts working she has to stop and walk the baby on the floor! "She walks with the baby, in my place / She talks with the baby, in my place / She sings for the baby, in my place / And she clings to the baby, in my place / Now I know it is Understood / This is what happens when the gettin 'gets good.
"Annie had a baby", The medallions
"Honky Tonk Women" (alternate version), The Rolling Stones
We started with the "Annie Had a Baby" version of the Medallions, and then we moved on, of course, to "Honky Tonk Women". It was the Rolling Stones; rest in peace Charlie Watts. There is no better tribute to rock's greatest rock'n'roll drummer than the vicious groove he digs into "Honky Tonk Women". "Whoo! Mick says at the end of The Stones' masterpiece, and he's right.
This is Jimmy Reed, swearing, "Damn, he's a good lover."
"Good lover", Jimmy Reed
"Sex and candy", Marcy Playground
It was Marcy Playground, from 1997, with "Sex and Candy". And before that, "Good Lover" by Jimmy Reed. And here is the king of them all, Muddy Waters, who has a problem with "My dog ​​can't bark."
"My Dog Can't Bark", Muddy Waters
"Reno", Bruce Springsteen
It was your servant, with "Reno", from Devil's dust, preceded by the largest, Muddy Waters. This is Rodney Crowell, with "Sex and Gasoline".
"Sex and essence", Rodney Crowell
It was Rodney Crowell, born in 1950 in Houston, Texas, who played in the Hot Band of Emmylou Harris. He is also part of the great line of singer-songwriters that Texas seems to produce flawlessly. Great writer, great artist.
Here is the queen of disco.
"I love to love you baby," Donna Summer
"Let's go", Marvin Gaye
And we ended our program with another great record from Marvin Gaye, who without a doubt made some of the sexiest recordings of the 70s. And that's about our show today. Hope you enjoyed our time together. And until we meet again, may your life be filled with sex, love and rock'n'roll! Go in peace.
"I'm on fire", Bruce Springsteen
_______________________
Springsteen has been doing "From My House to Yours" shows since April 2020. Click here for an index of all the songs played in the series, as well as links to videos for the songs and transcripts from each show.
The shows lasted from about 45 minutes to about two hours each, with rehearsals and on-demand availability after the first broadcasts. "Parlons sexe" will be rebroadcast on October 13 at 6 pm; October 14 at 6 a.m. and midnight; October 15 at 4 p.m. October 16 at 9 a.m. October 17 at 1 p.m. and 10 p.m. October 18 at 7 a.m. and 3 p.m. and October 19 at 10 a.m.
Visit siriusxm.com.
We need your help!
CONTRIBUTE TO NJARTS.NET

Since its launch in September 2014, NJArts.net, a 501 (c) (3) organization, has grown into one of the most important media in the Garden State art scene. And it has always offered its content with no subscription fees or paid walls. Its continued existence depends on the support of members of this scene and art lovers in the state. Please consider making a contribution of $ 20, or any other amount, to NJArts.net through PayPal, or by sending a check made out to NJArts.net at 11 Skytop Terrace, Montclair, NJ 07043.