Live Nation is offering $25 tickets to some pretty big gigs in LA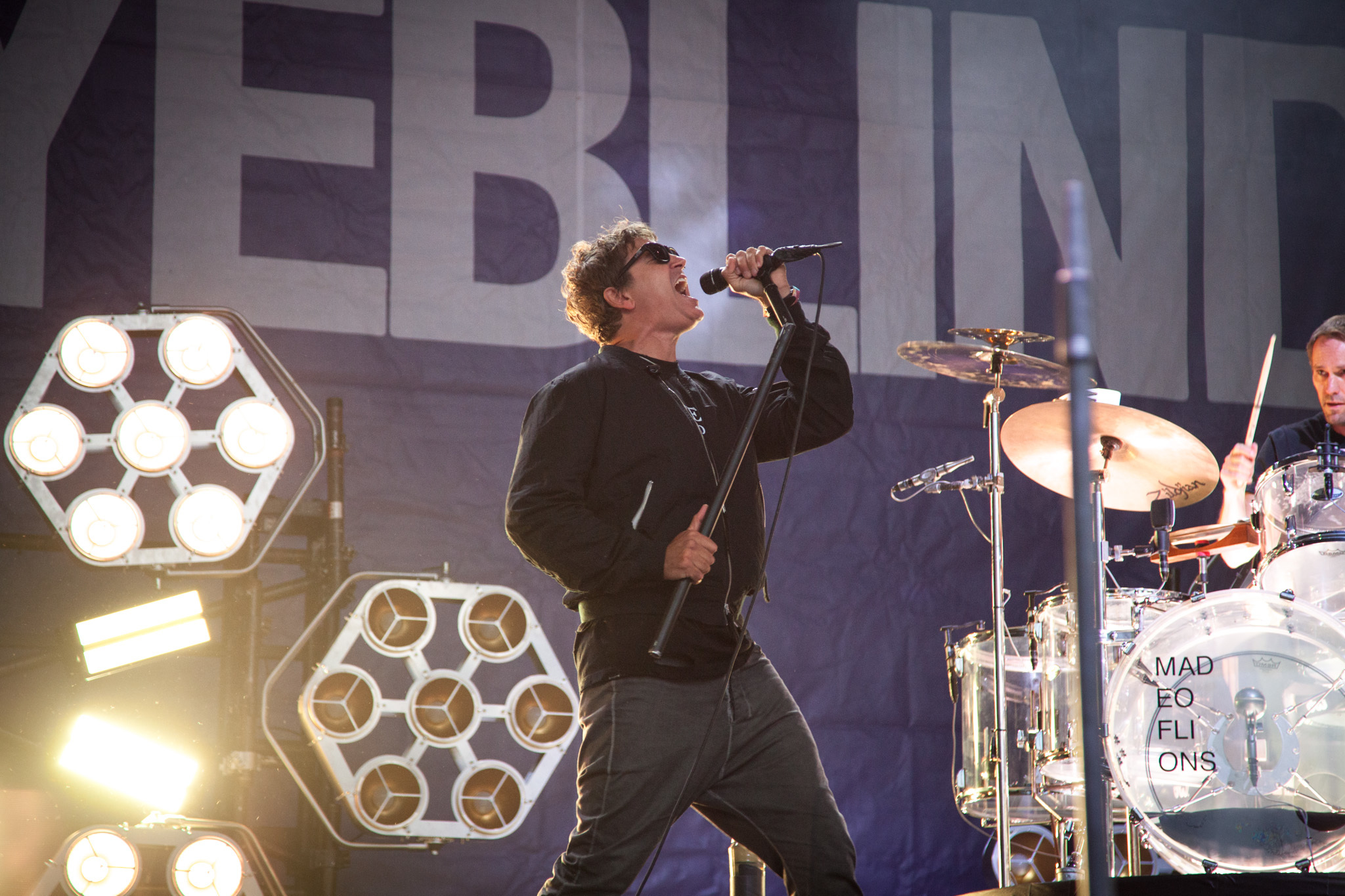 We're so grateful that live music has been back for a little while now, but our wallets don't feel quite the same (we're looking at you, pretty much every music festival).
Fortunately, Live Nation has once again decided to give us all a temporary reprieve with "$25 all-inclusive tickets" to concerts across the country, including more than 200 shows near Los Angeles. And unlike most tickets on major platforms (like, ahem, Live Nation), these limited-time $25 tickets (up $5 from last year's similar promotion) won't have a additional taxes or additional charges.
The deal doesn't apply to all of the wanted shows this summer, but there are $25 tickets up for grabs for some pretty notable shows: Angel Olsen at the Greek Theatre, The Who at the Hollywood Bowl, Wu-Tang Clan at the FivePoint Amphitheater (like the entire emo Vagrant 25 Years on the Street festival), the Flaming Lips at the Wiltern and Third Eye Blind at the YouTube Theater, among others.
All-inclusive $25 tickets go on sale Wednesday, May 4 at 7 a.m. If you're a Citi cardholder, you can catch them one day early on Tuesday, May 3 at 9 a.m.
Check out the full list of LA area shows below.
Aratani Theater (Little Tokyo)
Jens Lekman (April 30)
The Belasco (Downtown LA)
Kikagaku Moyo (September 22)
The Woman (June 24)
Amigo the Devil (September 2)
Flight Facilities (July 10)
Jesse (October 8)
moisans toi (May 23)
The Menzingers (December 8)
Taylor Swift Party at Belasco (June 10)
Amigo the Devil (September 2)
Anne-Marie (November 29)
Youth Band (May 18)
Health (September 17)
Very Suspicious (October 6)
Jake Bugg (October 11)
Katie Crutchfield (October 27)
Mariah the Scientist (July 22)
Jean Mom (October 4)
Death by napalm (November 19)
Paloma Mami (September 14)
Senpai Squad (July 1)
The Afghan Whigs (October 12)
Cats (October 7)
The Church (November 18)
Viagra Boys (September 30)
After the funeral (May 13)
Soup Bowling (September 4)
Cobra Man (August 5)
Destroyer (May 20)
Sky 17 (September 29)
Jerry Cantrell (May 5)
Kevin Morby (October 1)
Glock Key (May 6)
She died (October 30)
Tirzah (May 24)
Lil Tracy (June 4)
Great KRIT (May 19)
Hello (May 7)
Macy Gray (July 8)
Nothing, Nowhere (May 8)
Symphony X (June 1)
The Exploited (May 27)
Tai Verdes (May 22)
Judah and the Lion (September 16)
Constellation Room (Santa Ana)
Summer Years (May 9)
Echoplex (Echo Park)
A Tribe Called Red (May 13)
Otoboke Beaver (October 19)
Still Corners (June 2)
Dances with the Dead (May 5)
Daniel Rossen (June 10)
Girls vs. Boys (October 7)
WH Lung (September 29)
Azizi Gibson (May 6)
Clap your hands, say yes (July 16)
Everything's Wrong (podcast) (May 19)
Skillibeng (June 8)
FivePoint Amphitheater (Irvin)
Irration (August 26)
Slightly Stoopide (July 15)
Blind Third Eye (August 13)
Vagrant Festival 25 (May 28)
Fish Festival (June 11)
Sammy Hagar (September 10)
Train (July 29)
Wiz Khalifa (July 27)
Wu-Tang Clan (September 30)
Glen Helen Amphitheater (San Bernardino)
The Art Laboe fair (October 8)
Greek theater (Griffith Park)
Fleet Foxes (July 8)
Belle & Sebastian (June 4)
Angel Olsen (July 28)
Andrew Bird (June 15)
Brit Floyd (June 18)
CAAMP (July 6)
Fitz and the Tantrums (August 27)
Goo Goo Dolls (September 2)
Goose (August 21)
LP (May 21)
Norah Jones (June 29)
Orchestral Maneuvers in the Dark (OMD) (May 26)
Puscifer (June 12)
Josh Groban (August 2)
Head and Heart (August 20)
hollywood bowl (Hollywood)
Russian (May 5)
Ben Platt (September 12)
The WHO (November 1)
Hollywood Palladium (Hollywood)
Mount Joy (August 5)
Spoon (June 2)
Alexisonfire (October 4)
AWOLNATION (November 11)
Behemoth (May 15)
Bomba Estereo (October 3)
Christina Aguilera (October 25, 26)
Dispatch (July 16)
Midnight Oil (June 7)
Rina Sawayama (November 23)
Three Day Grace (August 18)
Troy Boi (October 15)
House of Blues (Anaheim)
Toads (September 23)
Citizen Cope (May 5)
Oh Wonder (May 29)
Alexisonfire (October 9)
Lit (June 17)
Sydney (May 6)
The Motels (July 1)
Michel Franti (July 29)
KAINA (June 10)
Meteora (June 17)
Gilby Clarke (June 2)
Kia Forums (Inglewood)
Campeones Festival – Uforia Tudena Deportes (June 23)
Rise Against (July 19)
Long Beach Terrace Theater (Long Beach)
Primus (June 24)
OC Observatory (Santa Ana)
Symphony X (May 31)
After the funeral (May 14)
Dying fetus (May 15)
Sweet High Club (May 10)
Shakey Graves (August 19)
Tirzah (May 23)
Foreign Fivio (June 6)
Azizi Gibson (June 10)
Deicide (August 17)
Manic Hispanic (May 6)
Mike Love (June 11)
The Dickies (July 1)
The Fixx (June 15)
Coi Leray (May 28)
Pedro the Lion (May 29)
Orpheus Theater (Downtown LA)
Primal Scream (October 8)
Wardruna (November 4)
Palace Theater (Downtown LA)
Citizen Cope (May 6)
Flurry (November 4)
Riverside Municipal Auditorium (River)
New Glory Found (August 4)
Primus (June 23)
Juggernaut (May 11)
Meshuggah (October 8)
X (May 12)
echo (Echo Park)
Ericdoa (May 20)
French 79 (May 9, 10)
iamnotshane (June 3)
Legendary Pink Dots (October 25)
Rone (June 15)
Teen Wrist (June 8)
Torah (May 12)
Bastard (June 6)
Great Pleasure (May 27)
Darwin Deez (June 1)
Kid Francescoli (June 2)
Sports team (May 7)
Y La Bamba (October 1)
Cubs (May 8)
KAINA (June 12)
The Coronas (November 19)
The Regent's Theater (Downtown LA)
Penny and Sparrow (May 13)
Suicide Silence (June 4)
Citizen (7 and 8 October)
Day Wave (June 11)
Foy Vance (May 31)
Hunx and his Punx (June 16)
Let's Eat Grandma (November 23)
Lingua Ignota (June 9)
Alaska 5000 (December 3)
Cam (August 5)
Chloe Moriondo (October 26)
Clan of Xymox (November 19)
Cloud Nothings (September 10)
Deicide (August 18)
Dying fetus (May 14)
Failure (July 8)
Hailu Mergia (June 24)
Helado Negro (May 17)
L7 (October 27 and 28)
La Santa Cecilia (November 2, 3)
Laura Jane Grace (May 22)
Madison Cunningham (October 1)
McLusky (September 16)
Mudhoney (May 20)
From Montreal (September 14)
Sir Chloe (May 28)
The Devil Wears Prada (August 26)
The Children Rise (August 28)
The House of Love (June 10)
The wrecks (July 23)
PANGEA set (June 3)
Turnover (June 15)
Typhoon (June 2)
Wet (May 15)
Weval (June 25)
Dehd (May 10)
Enter Shikari (October 6)
Northlane (August 25)
Party Favor (June 17 and 18)
Superorganism (October 21)
The slackers (May 29)
The Subhumans (July 16)
Ziwe (May 21)
The Ace Hotel Theater (Downtown LA)
Howard Jones (June 24)
Peter Hook (September 8 and 9)
Steve Vai (December 3)
The Wiltern (Koreatown)
311 (11, 12 November)
Aldous Harding (June 24)
Alex G (October 21)
Alexander 23 (5 November)
Alvvays (October 29)
Aly & AJ (May 28)
Anberlin (October 24)
GROUPLOVE (July 8)
Homeshake (May 12)
Jesse McCartney (June 25)
Julia Michaels (October 20)
Kavinsky (September 22)
LEON (June 10)
Lucius (December 8)
Mario Aguilar (August 19)
Masego (September 10)
Matute (September 4)
Metronomy (October 27)
MOUNA (October 25, 26)
Nightwish (May 20, 21)
NIKI (October 22)
Noah Cyrus (November 4)
Noah Kahan (November 19)
Oh Wonder (May 31)
Overcast (May 14)
Pierre Bourne (October 14)
Ring of Purity (July 23)
Regina Spektor (June 23)
Sasha Alex Sloan (August 28)
Shakey Graves (August 23)
Silverstein (August 27)
Stereolab (September 15)
STS9 (August 5 and 6)
Sunny Day Real Estate (December 12)
Testament (October 13)
The Decemberists (August 9)
Flaming Lips (May 9)
The Marcus King Band (October 7)
The Pretty Reckless (September 9)
The Teskey Brothers (June 6)
The Walters (June 9)
TONS AND ME (August 10)
Turkuaz (September 29)
Twin Temple (October 30)
Two Feet (September 17)
WASP (December 11)
Yacht Rock Revue (August 13)
Yann Tiersen (June 7)
Moderate (September 23)
Sal Vulcano (May 22)
YouTube Theater (Inglewood)
Bastille (May 20)
George Clinton & Parliament/Funkadelic (August 17)
Jon Pardi
Aerial refueling (July 30)
Emmanuel (May 21)
Raphael (October 21)
Rick Springfield (August 30)
Switchfoot (August 23)
The Doobie Brothers (October 2)
Blind Third Eye (August 5)
Diljit Dosanjh (July 27)
Burning Spear (July 24)