Brahms and Radiohead Meet at ISO, Thanks to Composer Steve Hackman – Indianapolis Business Journal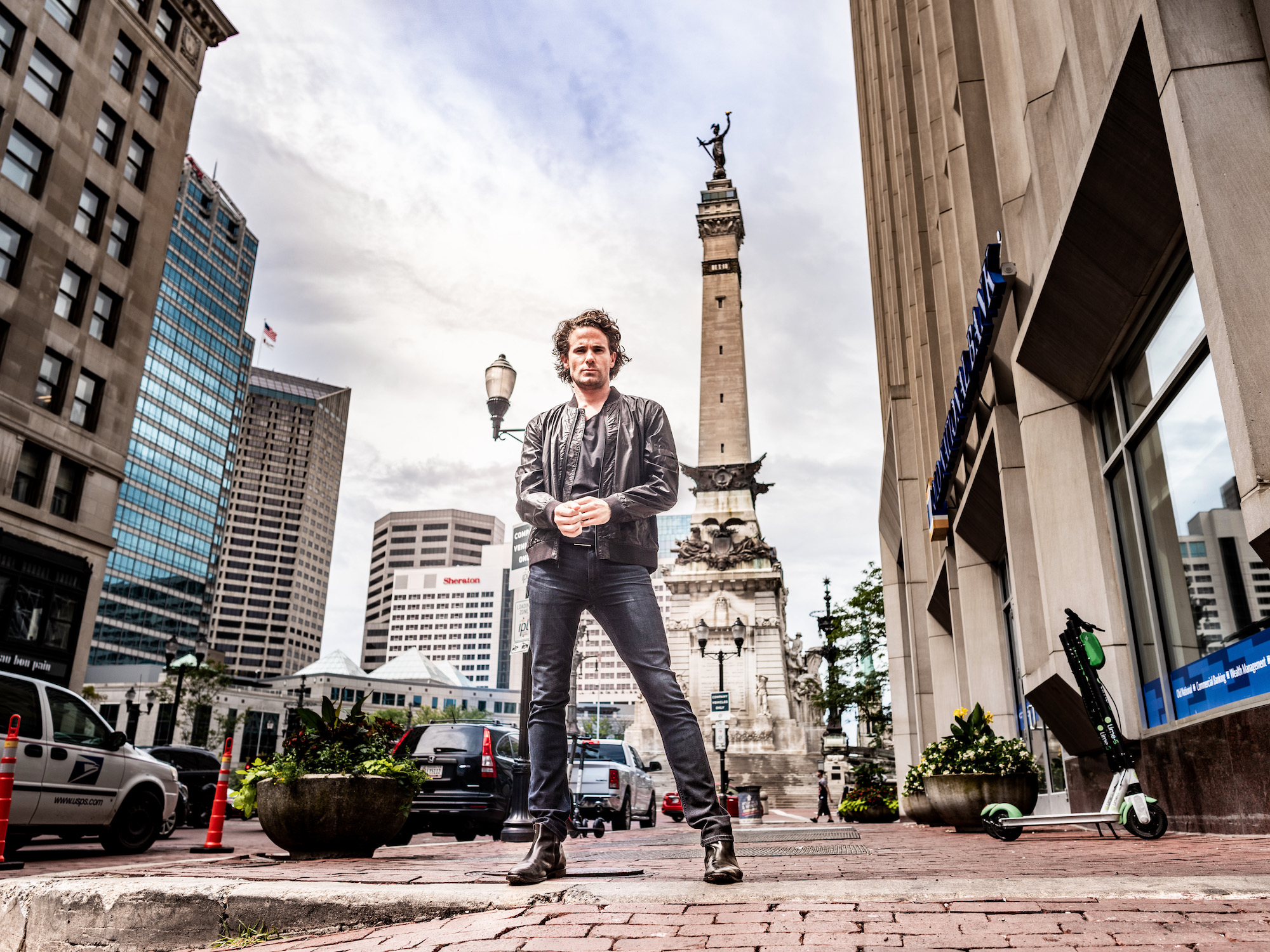 Chicago native Steve Hackman collaborated with Kanye West on a 2019 opera titled "Mary." (Photo courtesy of the Indianapolis Symphony Orchestra)
Steve Hackman did not draw a connection between 19th century composer Johannes Brahms and modern rock band Radiohead, as both artists approached music in the same way.
Brahms, Hackman said, was a traditionalist. In contrast, Radiohead built its reputation by bringing new sounds into the context of popular music.
Instead, Hackman – who has been described as a re-composer – merged Brahms' Symphony No. 1, which debuted in 1876, and Radiohead's 1997 album "OK Computer" because the works overlap in a less tangible space.
"The pieces share that anxiety and a dark pathos and that brooding feeling," Hackman said. "It's that feeling, I think, that makes the piece work, even though the two composers were opposites in terms of tradition and avant-garde."
On June 1, Hackman will conduct the Indianapolis Symphony Orchestra in a performance titled "Brahms v. Radiohead." Singers Bill Prokopow, Keren Tayar and Andrew Lipke will accompany the orchestra as they sing the lyrics to "OK Computer" tracks such as "Karma Police", "Let Down" and "No Surprises".
The event is Hackman's second "Uncharted" program at the Hilbert Circle Theater, following a March presentation of his "Resurrection Mixtape" which fused Gustav Mahler's Resurrection Symphony with songs from rappers Notorious BIG and Tupac Shakur.
Hackman's history with the ISO dates back over a decade through his work in a "Happy Hour" series that was retitled "Uncharted". His method of fusing historical classic compositions with modern hitmakers first gained attention when he unveiled "Brahms v. Radiohead" in 2013.
It would have been easy, Hackman concedes, to pair "OK Computer" with a composer from the past who had a reputation for innovation.
"Given the experimental nature of Radiohead and their penchant for constantly pushing boundaries and blazing new trails and entering uncharted territory themselves, you would think that someone like Stravinsky or Bartok or Pierre Boulez or Stockhausen would be a good couple for Radiohead," Hackman said. "And indeed they could be."
Hackman said he gravitated towards Brahms because the German composer represented the opposite.
"You have a band like Radiohead, very impatient and very avant-garde of the experimental. And then Brahms was really a traditionalist who always looked behind him. In 1876, when composing his first symphony, you had already Berlioz: Symphonie Fantastique and you already had Wagner creating Das Rheingold, it was by intention to have Radiohead through the lens of Brahms.
A Chicago native, Hackman was a student at the University of Illinois when another member of a campus singing group listened to "OK Computer" while on a road trip.
"I was instantly obsessed," he said. "My whole sophomore year of college, I listened to 'Subterranean Homesick Alien' every night before I went to bed."
The stature of "OK Computer" has not diminished over time. When Rolling Stone magazine ranked its 100 best albums of the 1990s, "OK Computer" was #3, behind Dr. Dre's "Chronic" at #2 and Nirvana's "Nevermind" at #1.
Which isn't to say that Hackman hasn't taken his beating from the critics for exploring the connections between Radiohead and Brahms. In 2015, Tom Service denigrated the exercise in the pages of the British newspaper The Guardian.
"You can cry at the jaw-dropping cultural violence inflicted on both 'OK Computer' and the First Symphony in one of the most remarkably cynical musical projects I think I've ever heard," Service wrote.
Hackman described Service's prospect as a knee-jerk reaction.
"Much of this backlash has been informed by failed and sometimes nasty attempts to blur the lines or cross the boundaries between classical and popular music," Hackman said. "I am aware of it and I understand it. I have definitely discovered over the years that orchestras have become much more tolerant. I think mainly because word got around that this work is done with care and respect and with great intention and, frankly, great ability. I am not afraid to say that this job was well done.
Speaking of controversy, it's worth noting that Kanye West enlisted Hackman in 2019 to collaborate on a Nativity-themed opera titled "Mary."
Hackman said he was grateful for the chance to work with West, whom he described as a visionary artist. The opera was written in a collapsed timeline of five days, Hackman said.
"I think he believes that sometimes the most explosive creativity can come out of the most extreme and perhaps untenable circumstances," Hackman said. "If you talk to anyone who's worked with him before, they'll tell you he pushes you harder than you've ever been pushed before. It was an unforgettable experience. Being with him was something I'm very grateful for and can't wait to do it again.